Tel: 1(604) 434-9316
e-mail: qxcloud@telus.net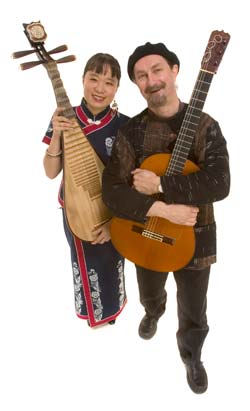 Canadian performances threading the cultures of Asia and the world—from classic Chinese solos and intimate duets to multicultural ensembles that rock the house.
Silk Road Music consists of two groups headed up by Qiu Xia He 何秋霞 and André Thibault
Silk Road Music ranges from a duo to a full troupe and provides everything from concerts to school performances.
Jou Tou is an ensemble that works as a duo and more depending on the setting such as concerts or schools, festivals or special events.
Besides these two groups, Qiu Xia He 何秋霞 and André Thibault offer solo performances for concerts, schools and special events.
As recently as the mid 1990s, stereotypes of Chinese music as atonal and inaccessible dominated white North Americans' perceptions of the country's sound. The idea of blending Chinese music with popular Western styles was seen as absurd, if not impossible.
Silk Road Music changed all that
Founded in Vancouver in 1991, the ensemble pioneered the kind of Chinese-Western musical fusions that one now hears in acts ranging from The Sparrow Quartet to Yo Yo Ma's Silk Road project. It has blended Chinese folk and classical music with Celtic, Latin, Arabic, Aboriginal, jazz, and blues music. It developed two exciting educational programs to bring world music to school children, and in 2001, it created a groundbreaking recording and performance project that paired Chinese and European-Canadian vocalists for bilingual duets of Chinese folk songs. Along the way, it earned a Juno nomination, two West Coast Music Awards, two Canadian Folk Music Award nominations, and countless enthusiastic reviews. Most recently, Silk Road Music has turned its attention to "sinified" flamenco music, performing on stage with flamenco dancers and engaging in an extended study period in Spain
At the heart of Silk Road Music is the unstoppable artistic vision of its founder, Qiu Xia He (Pr. Chu-sha Her), a one-time music teacher at China's Xian Academy of Music and one-time professional pipa player with the Shaanxi Music and Dance troupe. While performing with the troupe at the Vancouver Folk Music Festival, Qiu Xia made a dramatic decision to stay in Canada and was welcomed by a household of Irish musician on Hornby Island. It was here that the seeds of her extraordinary cross-cultural musical experimentations were planted.
Qiu Xia formed Silk Road Music with two other B.C.-based Chinese musicians:  erhu player Shirley Yuan and zheng player Li Zhou – who was later replaced by ruan player Zhimin Yu. From the very beginning, the goal was to create a new musical hybrid born of its members' dual experiences in China and Canada. The group showcased at Pacific Contact and was quickly snapped up for performances at major festivals across Canada. On stage, Qiu Xia's charming and witty stage presence endeared her to audiences and promoters alike, while the band's virtuosity impressed even the most skeptical observer — laying the foundation for repeated offers of return engagements.
In 1998, Silk Road Music released its debut album, Endless, which featured traditional Chinese folk and classical numbers, such as "Horse Race" and "Autumn Moonlight on Ping Lake" alongside a medley of Irish and Quebecois folk songs and a collection of original compositions based on Celtic, jazz and Brazilian music. The album earned a Juno nomination for Best Global Album and a Western Canadian Music Award for World Music Album of the Year
Silk Road's 2001 follow-up project, Village Tales, remains its most famous and ambitious. The ensemble translated twelve Chinese folk songs into English and performed them in English and Mandarin with duets of Chinese and European-Canadian vocalists. Fourteen cross cultural performers were involved in the process. They key touring duo featured breath-taking Beijing opera vocalist Feng Jun Wang and Vancouver opera sensation Willy Miles-Grenzberg. Village Tales earned Silk Road a second West Coast Music Award and a permanent place in the hearts of Canadian educators for whom Village Tales — with its detailed, informative liner notes, and accompanying educational package — became an important resource for teaching children about China.
Following another period of extensive touring, Silk Road Music embarked on yet another entirely different project. Erhu player Shirley Yuan had departed the group and was replaced by Qiu Xia's new husband, French-Canadian flamenco guitarist and oud player, André Thibault. Together, inspired by Gavin Menzies' popular history book 1421: The Year China Discovered America, Silk Road developed a new school show featuring music from around the world. They also recorded the 2005 album Autumn Cloud: Journey with her Pipa, which included interpretations of Aboriginal, Spanish and Arabic music in addition to Chinese, Latin and Celtic. What's more, it saw Qiu Xia record blues for the first time — a genre she had been working to interpret for years.
Autumn Cloud received two Canadian Folk Music Award nominations for Ensemble of the Year and Pushing the Boundaries. It was followed by another round of touring, highlights of which included a performance with the Victoria Symphony Orchestra and shows at Toronto's Harbourfront, The Ottawa Folk Festival and The International Guitar Festival in Quebec.
Silk Road continues to perform both as a duo featuring Qiu Xia and André and as a larger ensemble. They appeared with the Vancouver Symphony Orchestra during the Dalai Lama's visit to Vancouver and with the Calgary Philharmonic Orchestra during Asian Heritage Month. They also appeared several times during the Cultural Olympiad in Vancouver, the cultural component of the 2010 Olympic Winter Games. Most recently, the ensemble has taken up flamenco music and has begun performing on stage with flamenco dancers. Qiu Xia and André are currently in Spain on a three-month study tour to enhance their flamenco skills
Given the proliferation of Chinese-Western music ensembles today and the vast variety of ways in which different artists fuse East and West, it seems hard to believe that there was once a time when the idea of Chinese-Western musical blends was seen as novel. Silk Road Music changed all that two decades ago, and they continue to be at the forefront of taking Chinese music and instruments in new artistic directions.
View a six-minute video of Silk Road Music featuring performance excerpts and interviews with Qiu Xia and André.