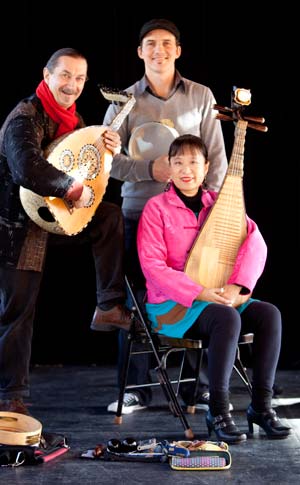 Tel: 1(604) 434-9316
e-mail: qxcloud@telus.net
JouTou français
JouTou (pr. Joo-Too) is a supergroup of world music veterans lending their formidable chops to French music from around the globe — and adding their own global twist!  The band's name derives from the French words "joue tout," which mean "play everything," and indeed, the group's repertoire includes everything from French and North African music to Gypsy, French Caribbean and Quebecois songs and originals based on this diverse array of styles.
JouTou launched in 2002 with a nationally-broadcast CBC Studio One session and has gone on to perform at major Canadian festivals like the Ottawa, Mission and Vancouver Folk Festivals. It has also become a favourite of French Canadian presenters like l'Association Francophone de Winnipeg, l'Association francophone de Saskatchewan, and Le Festival du Bois in Vancouver. In 2006, the ensemble was invited to China to perform at the 50th Anniversary of the Guangzhou Business Association.
JouTou was founded by Juno-nominated guitarist and oud player Andre Thibault, a Montreal-born musician of Acadian ancestry with deep roots in the world's French repertoire. A passionate student of flamenco since his teens, Andre discovered Arabic music through its connection to flamenco and was inspired to master the oud, a key instrument in the repertoire of French North Africa. In the 90s, he collaborated with the late Egyptian percussionist Adel Awad in Vancouver. He also recorded three solo albums that blended North African and Spanish sound, earning a West Coast Music Award nomination for 1998's Samar. Later in the 90s, Andre teamed up with the late French hurdy gurdy master Pierre Imbert to form Cordes en Folie, a West Coast Music Award-nominated group that explored French, Spanish and Arabic music. He also joined the Juno-nominated multicultural ensemble, Asza, with whom he performed music from all over the world — including the French world.
It was when Asza disbanded in 2001 and Cordes en Folie folded that same year – due to the untimely death of Imbert – that Andre assembled the stellar roster of musicians that form JouTou and pledged to continue both Cordes en Folie's revival of French music and Asza's global vision. JouTou's self-titled debut album featured Chinese pipa virtuoso Qiu Xia He and Uruguayan percussionist Pepe Danza — both alumni of Asza — and Celtic multi-instrumentalist Amy Stephen of the group Mad Pudding. In addition to French, Gypsy, and Quebecois songs, the album featured Spanish and Arabic music and a "francophied" version of a Chinese folk song they called "La danse du peuple Yi."
Today, JouTou tours either as a duo featuring Andre and Qiu Xia or as a trio with the addition of Irish percussionist Liam MacDonald. It has also developed an educational program for elementary school performances. Wherever it plays, the band's unstoppable energy and totally unique take on French repertoire continues to delight audiences of all ages.
CONCERT PROGRAM
Imagine Quebec, China, South America and Ireland sitting down for a musical session. In French, "Joue-tout" means "play everything", which is the philosophy of this new group, a dramatic fusion of contemporary global music with a unique French sound.
SCHOOL PROGRAM
This program presents French music with a more global and cosmopolitan perspective: from France to Quebec, North Africa and beyond. It can be performed with a quartet, trio or duo.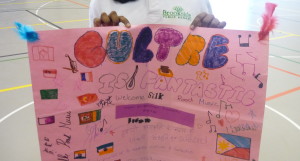 Download a Jou Tou Study Guide (Right-click on the link to download the PDF).