Tel: 1(604) 434-9316
e-mail: qxcloud@telus.net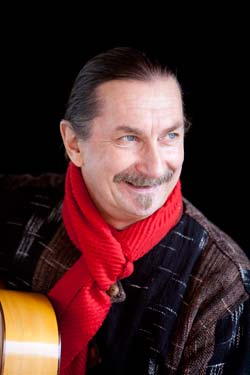 JouTou français
André Thibault (pr. Tee-bo) is a musician's musician, an artist who has always put mastery of his instruments and devotion to their cultural heritage ahead of pop music success. For over thirty years, he has been a stalwart member of the Canadian global music scene — as a solo artist specializing in French, Spanish and North African music; as a collaborator with other leading world musicians; as the founder and leader of the global French music ensemble JouTou; and as a member of two Juno Award-nominated world music projects: Asza and Silk Road Music
Born in a working class neighbourhood of Montreal to a family with Acadian roots and musical ancestors, André initially did what all musical youth of his generation did: he listened to the Beatles and played in rock n' roll bands. However, it was another performance on the Ed Sullivan Show that would ultimately prove more influential to him than that of the Fab Four:  the performance of the flamenco ensembles. Transfixed by their complex rhythms, Andre, who was until that point, a self-taught guitarist, began taking lessons from local players and dedicating himself to mastering the form — a commitment that continues to this day. Along the way, he found himself inspired by the Arabic components of flamenco, which, in turn, prompted him to take up the oud, world percussion, and an array of wind instruments.
After performing with a flamenco ensemble in Montreal in the late 70s, Andre relocated to Vancouver, where he began performing with Oscar Nieto's Mosaico Flamenco and Flamenco Heresy and doing regular gigs in ethnic restaurants. By the early 90s, he was also collaborating with the late Egyptian percussionist Adel Awad. In the mid 90s, Andre began a solo recording career that would result in three Spanish-Arabic fusion collections — 1995's Sheik It, 1996's Cookin' at Constanza's, and 1998's West Coast Music Award-nominated Samar — and a collection of Christmas songs performed on flamenco guitar, 1999's Noel Tropical.
His entry into the elite of the Canadian world music scene came in 1996 when he replaced Celso Machado as the guitarist in the multicultural music group Asza. With Asza, he earned a Juno nomination for Best Global Album; toured South Africa, Thailand, Malaysia, Singapore, India, Vietnam and North America; and was the subject of two nationally-televised documentaries in Canada and a national prime-time TV special in Vietnam. As his profile grew, Andre also played in workshops with Tommy Emanuel, D'Gary, David Lindlay, Ralph Towner, and Thierry Robin, and opened for Rachid Taha in Quebec — a show that became the subject of a French TV5 documentary.
Around the time he began playing with Asza, André also began a second significant collaboration:  Cordes en Folie, a French-Spanish-Arabic music ensemble co-fronted with the late French hurdy gurdy master Pierre Imbert (Lo Jai, Loreena McKennitt, Ad Vielle Que Pourra).  Along with percussionist Steve Lazin — until then known for his work with pop groups like Bob's Your Uncle — the band toured Canada and earned a West Coast Music Award nomination for its debut album O Expresso.
Following Imbert's untimely death in 2001 and the demise of Asza around the same time, André took the lead in founding a new group, JouTou, to carry on both Asza's vision of global fusion and Cordes en Folie's exploration of French music. With JouTou, Andre has crisscrossed Canada, performing at the Ottawa Folk Festival, Mission Folk Music Festival, Vancouver Folk Music Festival, Association Francophone de Winnipeg and Festival du Bois, among other places. In 2006, he took the band to China to peform at the 50th Anniversary of the Guangzhou Business Association.
In addition to performing with JouTou, André has since 2005 been a regular member of the Juno-nominated Chinese-Western music ensemble Silk Road Music, founded by Qiu Xia He, his Asza and JouTou bandmate to whom he is now married. While JouTou and Silk Road began as independent bands of musicians, the duo of André and Qiu Xia now resides at the core of both —each helping realize the other's musical vision. Qiu Xia provides the global twist to the French-themed JouTou while Andre provides much of the Western influence in the current incarnation of Silk Road.
When not touring with either band, André can still sometimes be found working in specialty music stores in Vancouver, sharing his intimate knowledge of his instruments with other enthusiasts. Most recently, he obtained a grant from the British Columbia Arts Council to help him achieve a lifelong dream of studying flamenco music in Spain.