Tel: 1(604) 434-9316
e-mail: qxcloud@telus.net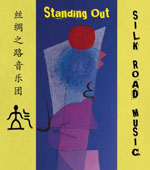 Standing Out (2012)
A musical tapestry, unconstrained, waiting to be enjoyed!
Striking out with inspiration, freshness and passion, Silk Road Music's new CD unprecedentedly unites the Eastern Pipa to the Western guitar. After years of perfecting their sound in live performances and breaking boundaries, the CD called for pure artistic choice and maturity. Expressing authentic views on traditional music forms. Whether you can name the music category or not, Silk Road Music delivers virtuosity and imagination.
Autumn Cloud: Journey with her Pipa (2005)
Nominated for two Canadian Folk Music Awards, Autumn Cloud is Silk Road Music's most diverse and musically-sophisticated album yet. With French-Canadian guitarist and oud-player Andre Thibault now a permanent member of the band, Silk Road explores Spanish, Arabic and Aboriginal music while continuing to build on its fusions of Chinese, Latin American and Celtic styles. Highlights include "Canarios," a lightening-fast rendition of a Spanish classic; "Rumba Calabria," Silk Road's first foray into Flamenco music; and "Blues for Pipa," the realization of years of effort to interpret blues music on Chinese instruments. Guests on the recording include Brazilian guitarist Celso Machado, tabla player Stefan Cihelka, Chinese erhu player Jun Rong and ruan player Zhimin Yu.
> Purchase at iTunes
> Purchase at CD Baby
Listen to samples from Autumn Cloud
Way In
Sparkling Dew
Rumba Calabria
A visionary project that features twelve Chinese folk songs translated into English and performed in English and Mandarin by duets of Chinese and European-Canadian vocalists. The core duo consists of breath-taking Beijing opera vocalist Feng Jun Wang and Vancouver opera sensation Willy Miles-Grenzberg. Other guest vocalists include Dorothy Liu, Michael Friedman, Siri Oleson, Lin Wei Xu and Katherine Goheen. Stand-out tracks include classical composer Mark Armanini's soaring arrangement of "Nomad's Rustic Song," Qiu Xia He's bombastic arrangement of "Gao Shan Qing" and Canadian folk-singer Michael Friedman's fast-paced phonetic recitation of the Mandarin lyric of "Ah Li Li."  New Westminster symphony conductor Jin Zhang also contributed arrangements to the collection.
> Purchase at iTunes
> Purchase at CD Baby
Listen to sample from Village Tales
Gao Shan Qing
Jasmine Flower
Feng Yang Flower Drum
The Juno-nominated album that introduced Chinese-Western fusion music to the world. Produced by Ed Henderson, brother of Chilliwack founder Bill Henderson, Endless is a collection of traditional Chinese, Irish and Quebecois folk and classical numbers and original compositions based on Brazilian, jazz and Celtic music. The title track is an interpretation of Chinese-jazz music. "Clouds: Irish Impressions" is an original Chinese-Celtic composition, and "Suite Popular Brazileira," composed by guitarist Celso Machado, who also plays on the cut, is based on a collection of Brazilian rhythms that range from the contemplative to the fiery. The album also includes covers of traditional Chinese numbers such as the Mongolian tune "Horse Race" and the classical piece "Autumn Moonlight on Ping Lake," and a medley of the Quebecois and Irish folk songs "La Bastringue" and "Green Mountain Petronella."  In addition to Machado, guests on Endless include jazz bassist Rene Worst, Chinese dizi (flute) player Chai Man Cheng and Irish flautist Loretto Reid.
> Purchase at iTunes
> Purchase at Outside Music
Endless
Clouds-Irish Impressions
Flute and Drum Heard at Sunset
JOU TOU
Imagine Quebec, China, Brazil and Ireland all sitting down for a session. That's the remarkable sound of this self-titled debut album from JouTou. The band takes French repertoire from a diverse range of cultures — Quebecois, Arabic, Gypsy, and French — and performs it with totally unique global arrangements. It also adds a French twist to some non-French numbers, like the Chinese folk song here named "La danse du peuple Yi."  JouTou introduces the core members of the band that remain to this day:  French-Canadian guitarist and oud player Andre Thibault and Chinese pipa virtuoso Qiu Xia He. It also features Uruguayan percussionist Pepe Danza and Celtic multi-instrumentalist Amy Stephen.
Contact us if you'd like to purchase a copy.
A pair
Gitan Gêné
Cruse à Pt St Charles
ANDRE THIBAULT
Mr. Nylon
Audio Samples from Mr. Nylon
Este Amor
Cookin at Costanzas
Severo
Noel Tropical
Hot and spicy Christmas Classics with Flamenco guitar and Latin rhythms, Chinese pipa and percussion.
Audio Samples from Noel Tropical
We Wish You A Merry Christmas
Jingle Bells
What Child is This?
Samar
World music with Andre on flamenco guitar, oud, bouzouki, flute and percussion. Several exciting guests on Flamenco vocals, hurdy-gurdy, kora and percussion.
Audio Samples from Samar
Samar
Severo
Samar8
Cookin' at Constanza's
Andre on flamenco and classical guitar, frame drums, ney and percussion and the amazing Adel Awad on dumbek and bongos.
Sheik-It
World Beat on flamenco and classical guitars, oud, bamboo flute and percussion.
Choro Typico (Brazil)
Clear on a Foggy Day (India)
Sheik-It (Afro-Latin)