Tel:604-434-9316 email:qxcloud@telus.net
For over twenty years, Silk Road Music has been smashing stereotypes about Chinese music and taking Chinese instruments in new artistic directions. Its pioneering musical fusions have merged Chinese folk and classical music with Brazilian, jazz, Celtic, Spanish, Arabic, Aboriginal and blues music. Founded by Qiu Xia He (pr. Chu-sha Her), a one-time music teacher and touring musician in her native Shaanxi, China, the ensemble has earned a Juno nomination, two West Coast Music Awards and two Canadian Folk Music Award nominations. Most recently, the group has begun exploring sinified flamenco music and performing on-stage with flamenco dancers.
Read a full biography of Silk Road Music.
See a video about Silk Road.
CONCERT PROGRAMS
Silk Road Music is an award winning group that has taken Chinese-Western collaboration to a new level. Its innovative blend of Asian, jazz, Latin, Celtic music and classical Chinese instruments and techniques has created a unique sound. Discoveries and travels of Qiu Xia He with her pipa, accompanied by multi-instrumentalist Andre Thibault as a duo. It can also be presented with a guest percussionist as a trio or expanded to a bigger ensemble.
SCHOOL PROGRAMS
China Speaks Your Language
Duo
Recent research suggests that the Chinese explorers of the 15th century voyaged not only to India and Africa, but around the world to the Americas. Whether true or not, this controversial theory has inspired a worldwide journey of musical exploration by the Silk Road Duo. In an adventurous encounter of musical traditions, Qiu Xia He and Andre Thibault show that China does indeed speak your language. A guest percussionist is available.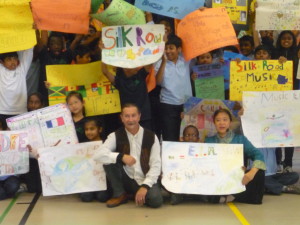 Download China Speaks Study Guide.

Village Tales
This program,CD and book is made with over 12 artists by Silk Road Music. It features singing and storytelling in both Chinese and English, with traditional Chinese instrumentation. This pioneering cross-cultural interpretation of Chinese folk songs is accessible and enjoyable for all audiences.
The Village Tales Study Guide is available by request.